Waking up in the wee hours of the morning, I discovered to my shock (more like horror) that we had forgotten to prepare a flask of hot water to make milk for Buddy. In fact, all the used bottles were not even cleaned as we had returned late from our Chinese New Year Reunion Dinner with my extended family, whom I've not met in the past year.
Earlier in the day, Angie had also discovered that we urgently needed some laundry service for our kids' clothes as we had underestimated the number of clothes for this trip. Thankfully, we were staying in this spanking new service apartment for this leg of our CNY visitation. Right after check-in, both Angie and I agreed The Capri by Fraser in Kuala Lumpur was a god-send. There were a quick boiling kettle and a clean kitchenette where Buddy's bottles could be quickly cleaned, sterilized and his feed prepared all within a matter of minutes.
We were also able to use washing machine cum dryer in the apartment to do some light washing to resolve our need for fresh laundry with detergent thrown in free. I used the larger dryer in the 'Spin' Room (for a fee) to dry some heavy clothings so that we don't go home with a large pile of soiled laundry. That is always the best part of staying in a serviced apartment.
Welcome to Capri by Fraser, a world-class service apartment situated in Bangsar South (About 20 mins to downtown KL) where the travellers' needs are met with world-class facilities and service. This contemporary service apartment is and this is where we made our 'home' during the peak of our home visitation during CNY. We were impressed the moment we set foot into the lobby. The receptionists greeted our family chirpily with well wishes for the Lunar New Year and gave the kids some CNY candies.
Spanking New, Immaculately Clean:
Our apartment was a clean and swanky, fully-air conditioned 3 bedroom apartment (the size of a 5-bedroom HDB flat) that comes complete with a living area, dining area and a kitchenette that is equipped with a large fridge and a 7.5kg washing machine cum dryer. Yes, quality appliances that we would actually use in our homes. We were pleasantly surprised that our stay comes also with daily housekeeping and virtually all the services you would expect from a full-service hotel.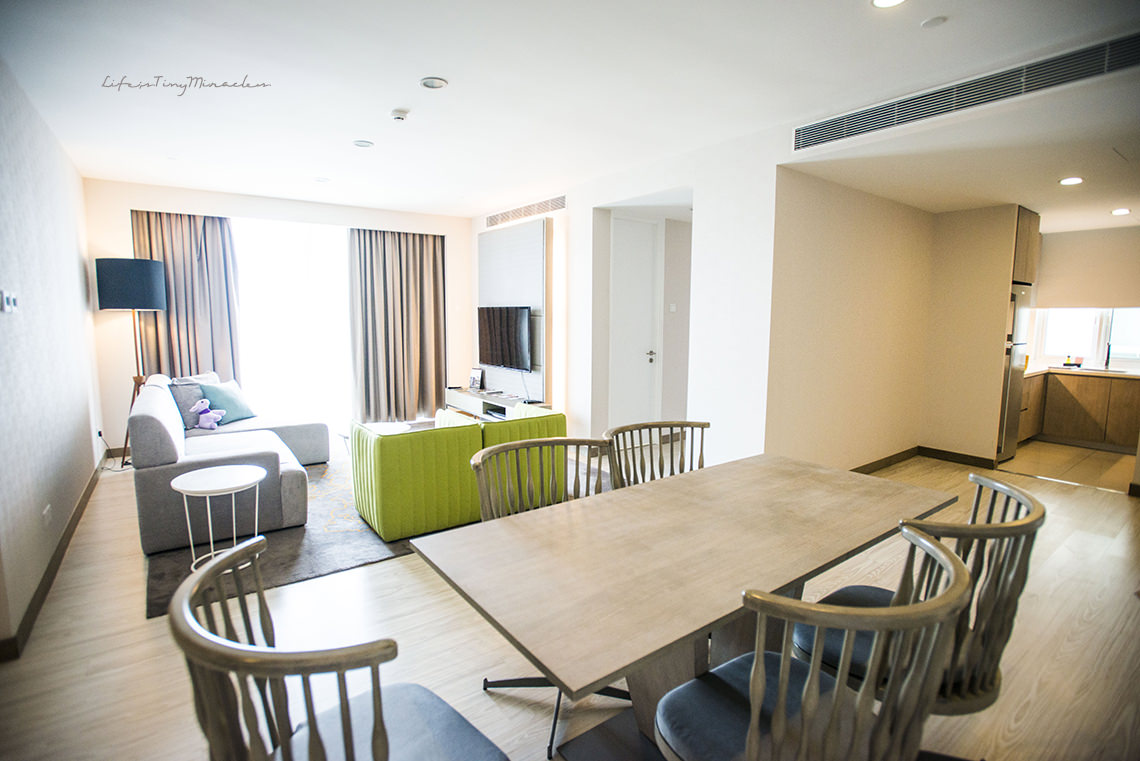 All their bedding and towels were immaculately clean. This was also the case for all the furniture out in the living room, the baby cot in our bedroom as well as the kitchen accessories in the kitchenette – everything was very well kept and could easily have passed as spanking new! With such a cosy, clean apartment, we were comfortably settled in for the evening. As it was CNY eve, we even enjoyed distant fireworks from the apartment's balcony at midnight.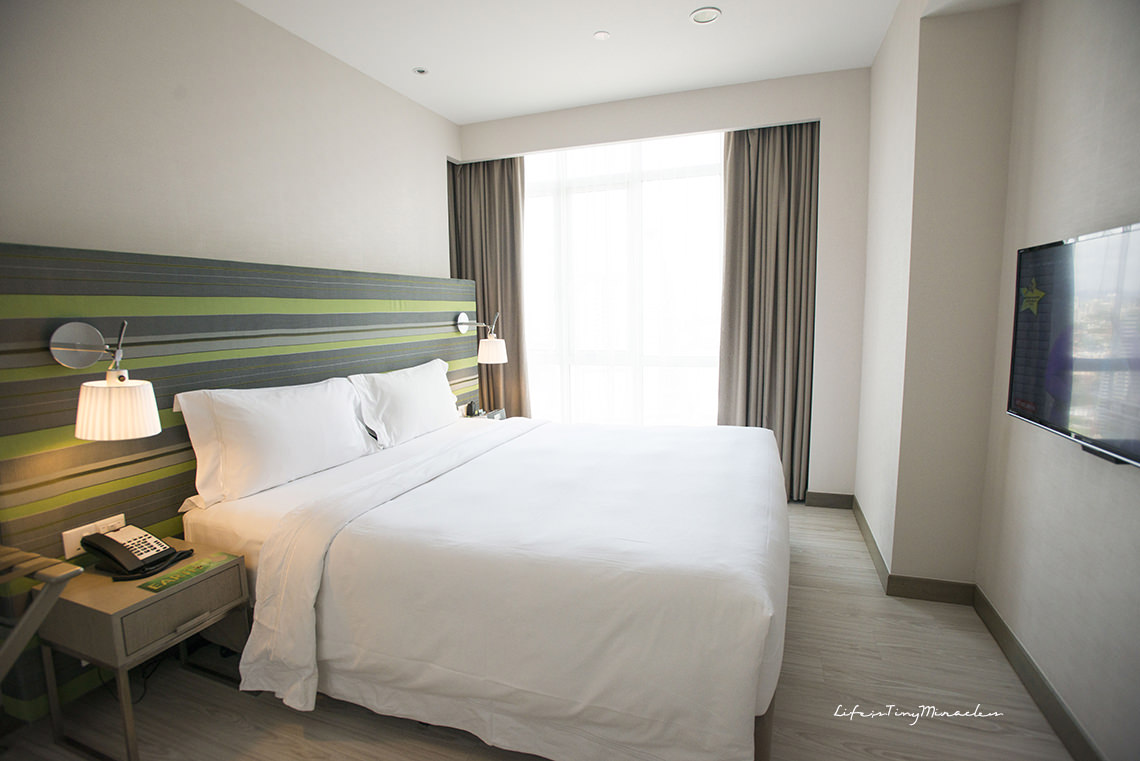 Take a tour of the apartment with us!
'Caprilicious':
After a peaceful night's rest, we were ready to savour the local breakfast that comes complimentary with the room. Down at the lobby is 'Caprilicious' – Capri's main restaurant which serves a modest selection of Continental and Asian breakfast. They had porridge, steamed dumplings and a selection of fresh fruits which were perfect for our young kids. Our 8 year-old were particularly thrilled with the fresh pancake station ( it was fresh waffles the next day!) For the adults, we especially loved the fragrant Nasi Lemak served with tender Mutton Rendang. Despite running at full capacity, the service staff were still prompt, attentive and friendly.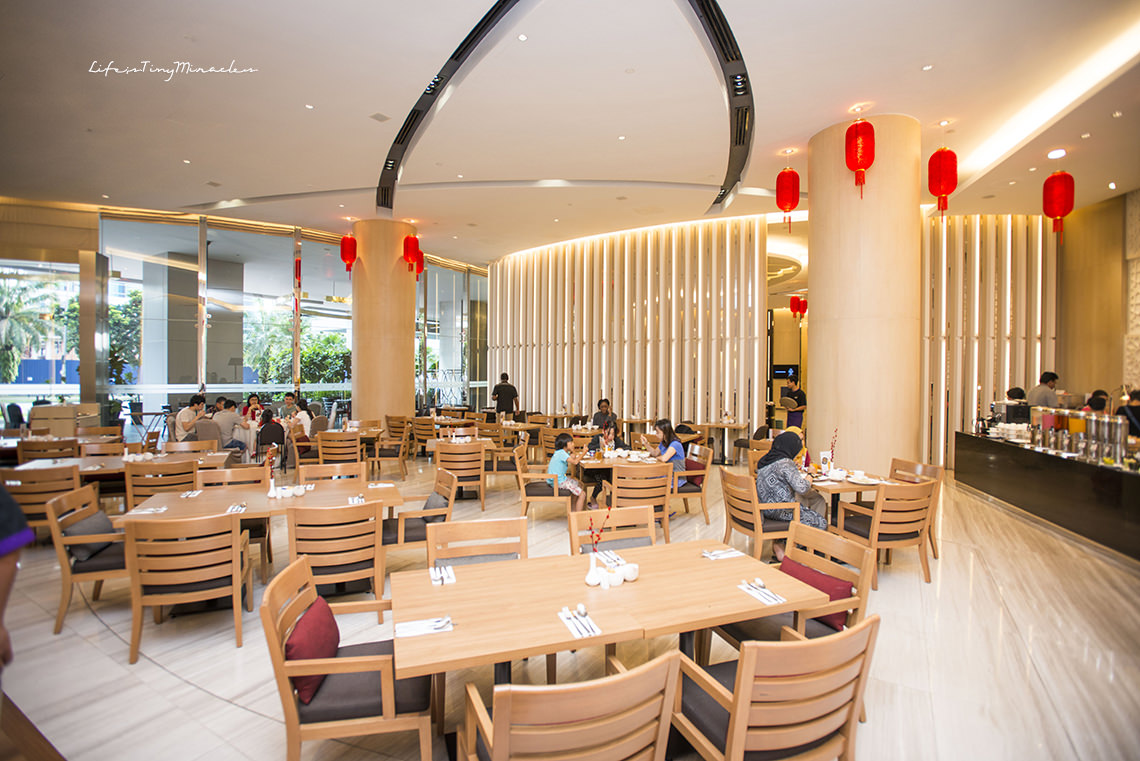 Downtime:
In between the hectic pace of Chinese New Year visitations, we stole a few hours to return to the apartment for rest. We appreciated the space that we have in the apartment – large enough for Buddy to be soundly asleep in the room while his elder sister was reading in her own room before an afternoon nap. Angie and I took turns to wash and sort out the laundry in the kitchenette and also watched some TV shows in the living room. My Mom, the kids' paternal Grandma caught up with some knitting in her own bedroom. Each of us had our own private space to unwind comfortably and recharge for another round of visitation.
Family Fun Time…regardless of Age:
The next morning after breakfast, we explored the hotel to check out the other facilities. As we all know, KL is such a big city, going out and having to search for activities that conveniently suit everyone from baby to Grandma can be challenging if not impossible. Here is where Capri by Fraser stands out. Up on the 32nd and 33rd floors (the highest floors of the hotel), is a stunning infinity pool that gives a breathtaking view of the city skyline. Next to it is the kids' wadding pool and the sun deck. We were impressed that the kids pool is just the right depth for Buddy to waddle confidently (without a float, as we didn't bring one). The pool side was large enough for all guests to have their own space to chill out on a languid Malaysian afternoon.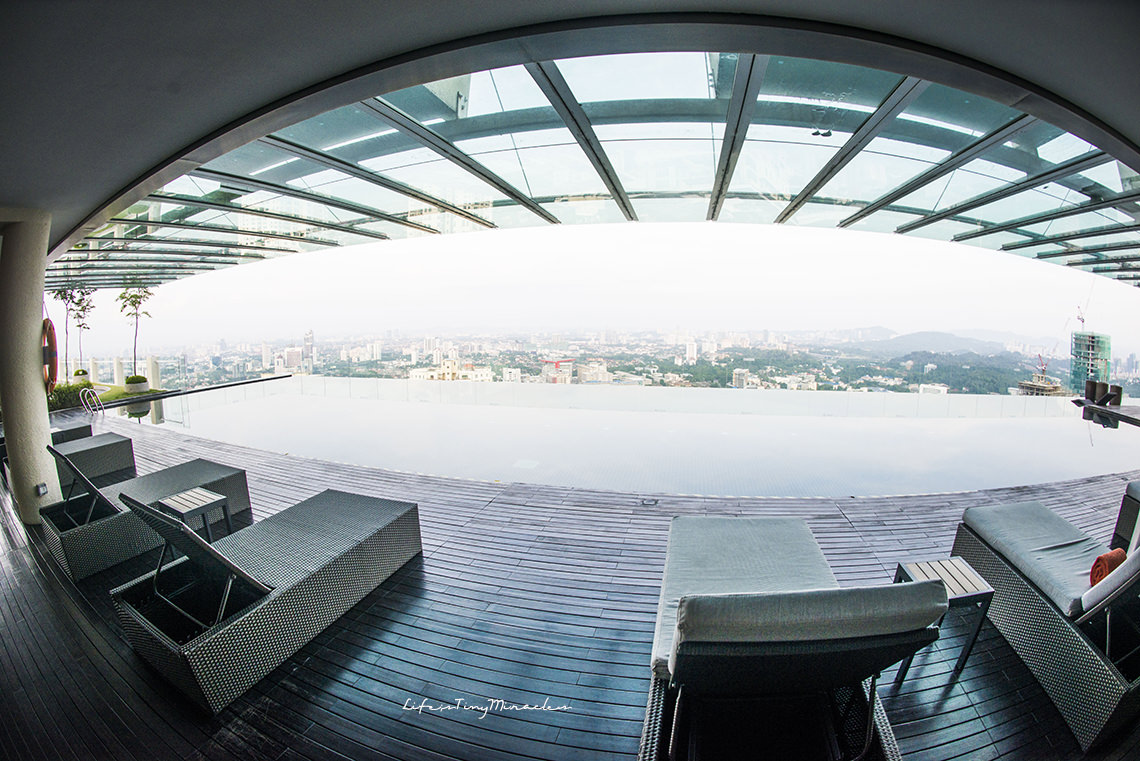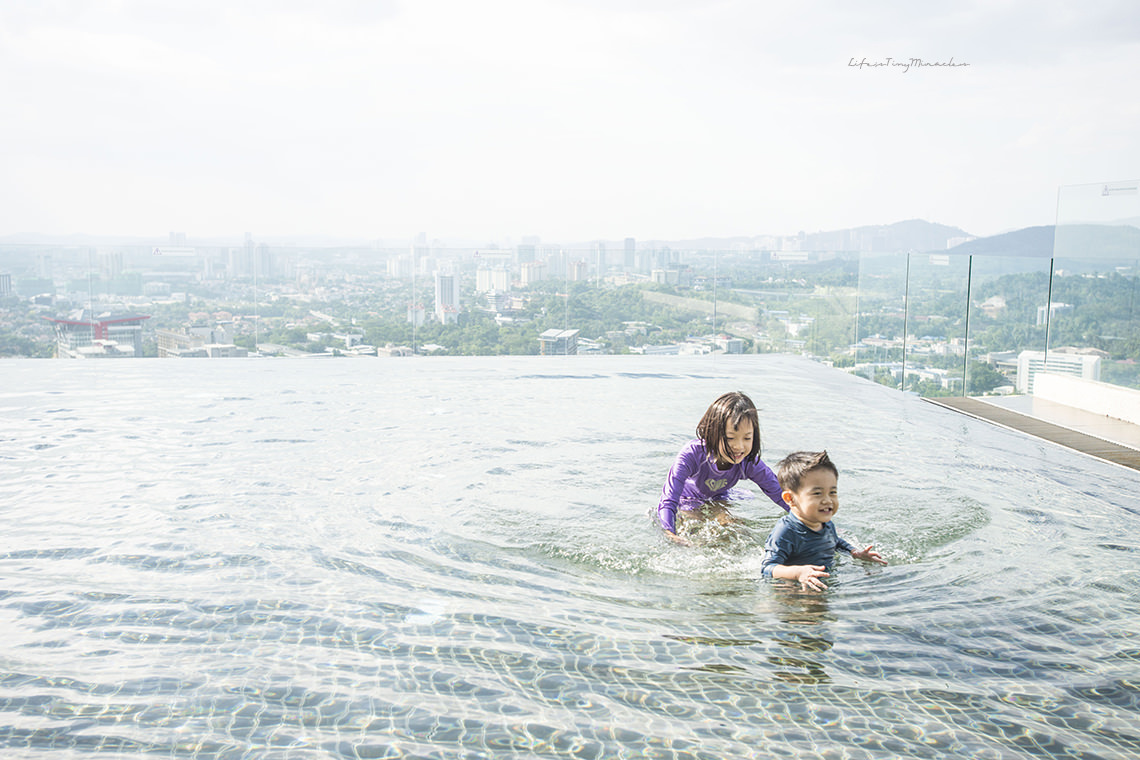 Watch our video of how much fun we had at the infinity pool!
If more privacy is what you need, then take a flight of short stairs up and you'll find two gazebos for sun-tanning or relaxing with a book. Right next to the gazebos are a row of private cabanas with jacuzzi. These private Jacuzzi all face the stunning skyline view and they are FREE for guests to use. Seriously impressive! We wish we had discovered these earlier in our stay. The views from here would surely be stunning at sunset!
Down at the 32nd floor, we discovered a treasure trove of rooms that got us even more excited – Games Room, Yoga Room, Gym and Kids' Play room. All large, spacious, clean and all facing the stunning skyline view.
The gym is large, clean and fully equipped. Next to it is a big yoga room for some private stretching and reflection. The games room was well-stocked with activities for family time – a Billard table, Table Soccer, 2 Video Games Stations – Playstation and Xbox. There's also a reading corner with materials for some light reading.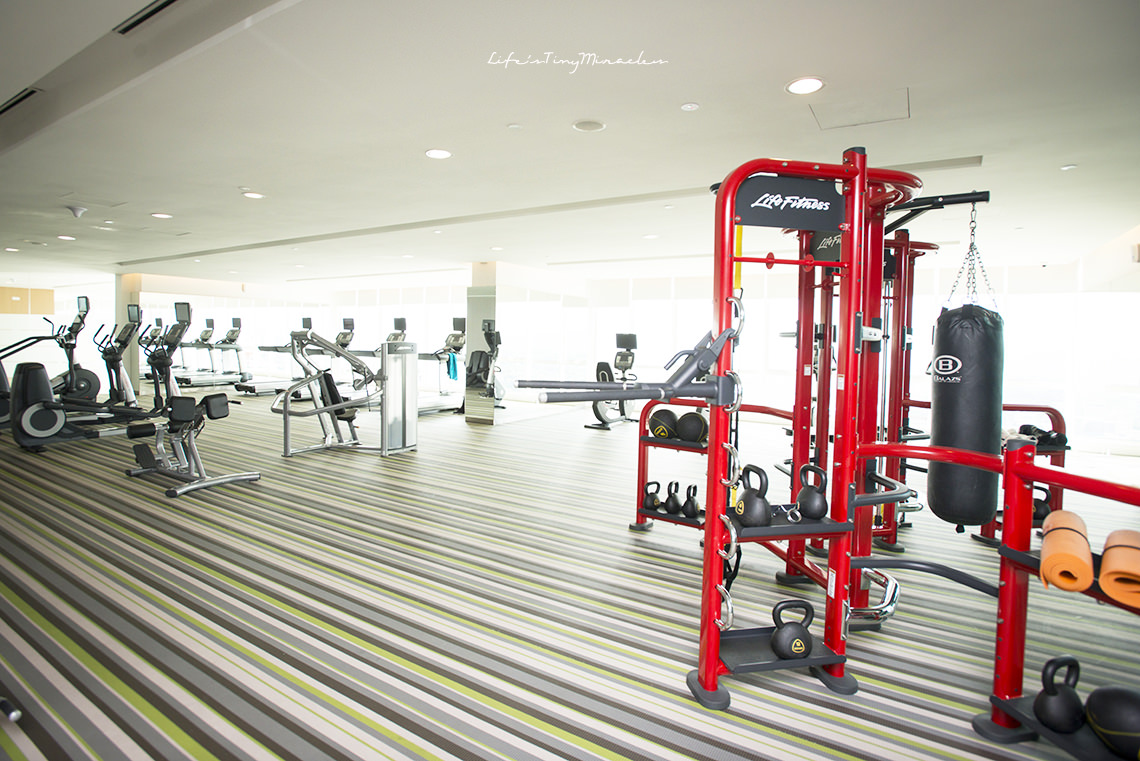 The kids were naturally drawn to the Kids' Play Room with a mini playground structure which was enough to ignite laughter from our toddler and his sister as they played around together under Mommy and Grandma's watchful eyes. The 4 of us also had lots of laughter playing the table soccer in the Games Room. Between these 2 floors, we had so much fun and most importantly, created many fond memories this CNY, right here in this hotel!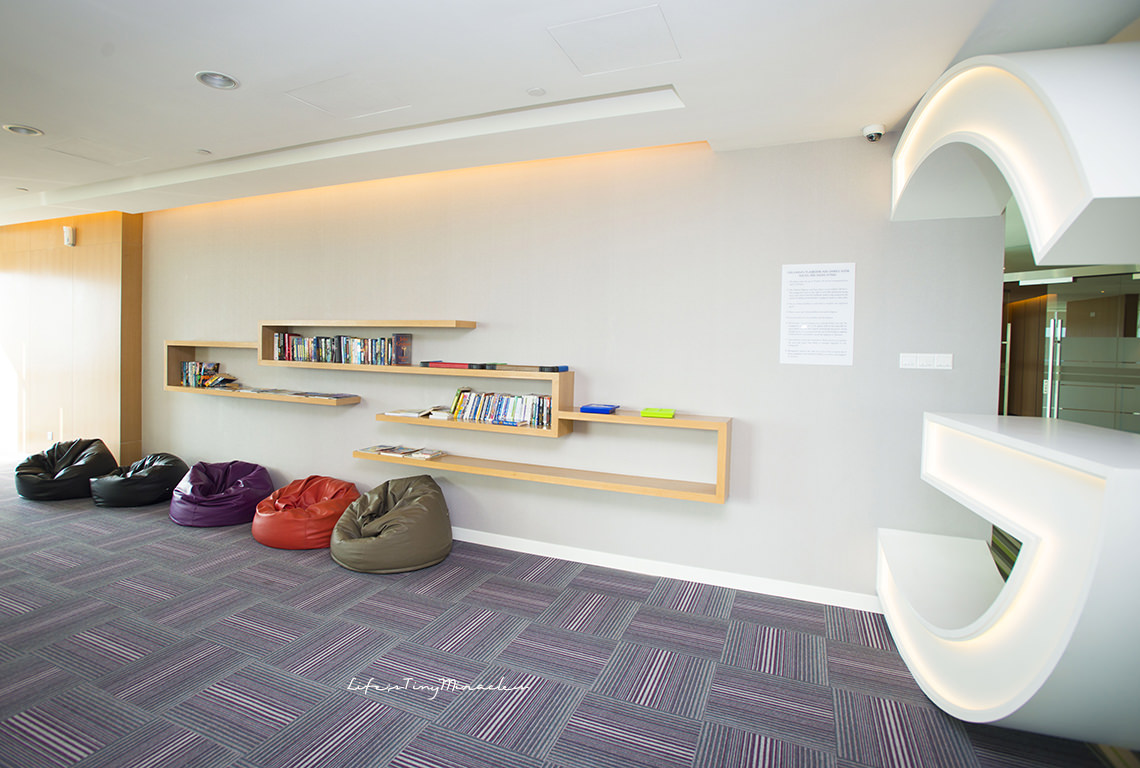 Here's a virtual tour of the awesome Family-Friendly Facilities at The Capri!
Shopping Time:
There is a large shopping mall (The Nexus) connected to the Capri by Fraser. Since our primary purpose for this trip was to catch up with relatives over CNY, we didn't do any shopping at all. But for those who need retail therapy while on vacation, the hotel does provide free shuttle service to the major malls in KL city such as KLCC, Pavillion, Midvalley and KL Sentral where trains are available to and from the KL Airport.
Our short 3D2N stay at Capri by Fraser exceeded our expectations. Not only was the apartment chic, clean and cosy, we were wowed by its family-friendly facilities and sincere service. We enjoyed our stay so much we actually felt sad to leave. The next time we return to KL, the Capri by Fraser would definitely be high on our list.
EXCLUSIVE GIVEAWAY!
Thanks to our sponsor, we are giving a 3D2N's stay at Capri by Fraser, KL (with breakfast), worth SGD500++ to 1 loyal reader. This is inclusive of breakfast for 2 adults and 2 children in La Brasserie and complimentary Internet access.
To participate in the giveaway, simply:
1. Like Capri by Fraser, KL's Facebook Page
2. Like Life'sTinyMiracles' Facebook Page
Complete the final steps in this Rafflecopter widget:
The giveaway ends 30 August 2016, 11.59pm and is open to readers in Singapore. The winners will be contacted using the contact particulars provided when entering this draw and will have 24 hours to respond, failing which a new winner will be drawn. All incomplete and unverified entries will be disqualified. All entries will be verified before the winner is announced. Please note that all fake Facebook and Instagram accounts (e.g. accounts set up purely to take part in contests with no authentic posts or very few real friends) will be disqualified. All the best!
Capri by Fraser Hotel Residences, KL