By the time you read this post, we're off to a short vacation to the land of the rising sun. It's our family's very first trip to Japan, we'll be doing it entirely Free & Easy and relying on the locals to help us on a daily basis. Naturally we want Dana to know more about this amazing country before we go. Here are some titles from the National Library which we've read in the past weeks leading up to the trip. Apart from books, we've also watched this DVD "Jiro Dreams of Sushi" which is available on loan from VideoEzy stores.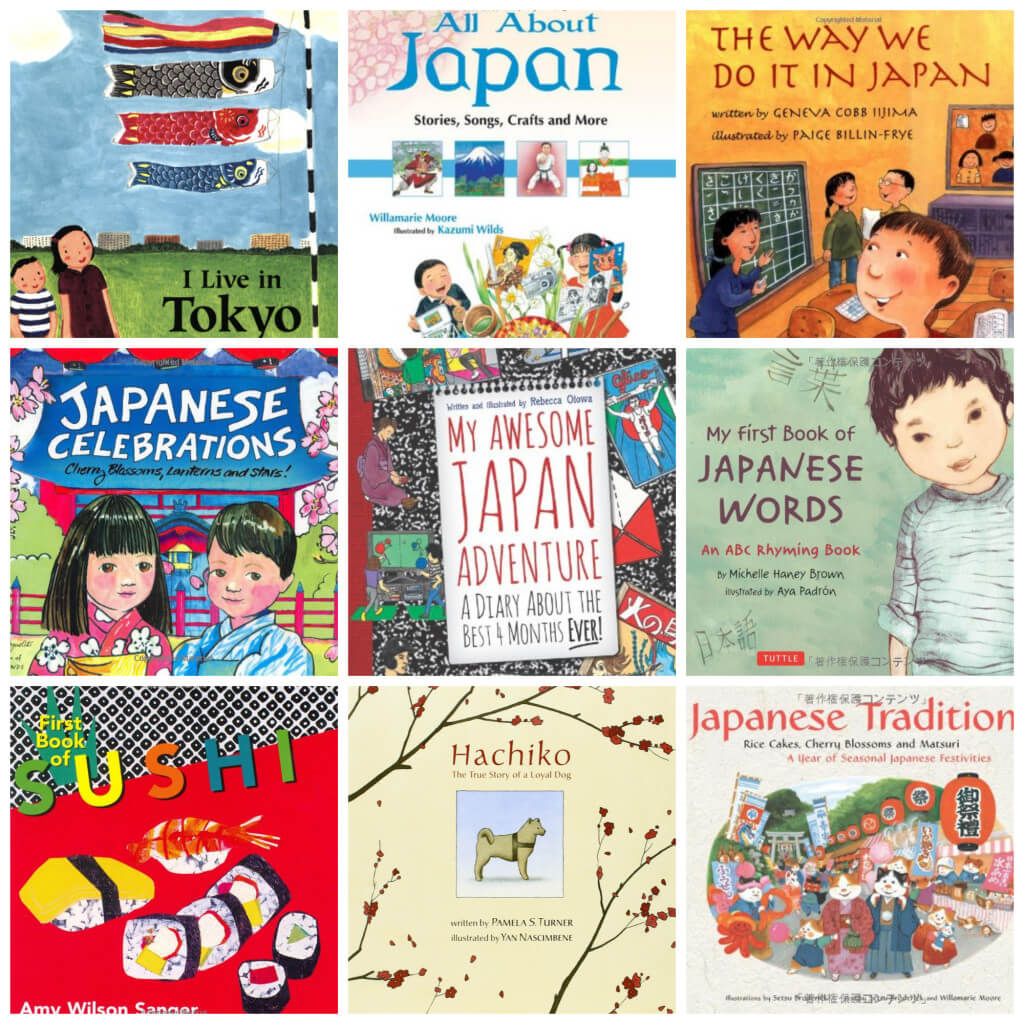 1. I live in Tokyo
Written & illustrated by Mari Takabayashi. English 952.135 TAK
This book is about a year in the life of seven-year-old Mimiko, who shares her festivals, food, and activities month by month. The colorful illustrations and the Japanese words highlight diverse aspects of daily life and special occasions, and keep kids interested throughout the entire story.
2. My awesome Japan adventure: a diary about the best 4 months ever!
Written and illustrated by Rebecca Otowa. English 915.204 OTO
Absolutely packed with cultural information: geography, breakfast, school, origami, history, rice harvest, food, pastimes, customs, tea ceremony- and much, much more! It's unique layout and and illustrations (see above) cover so many aspects of Japan- and mix the authentic information with the fictional journal of a 5th grade boy.
3. The way we do it in Japan
Written by Geneva Cobb Iijim ; illustrated by Paige Billin-Frye. English IIJ
A young child, Gregory, whose dad is from Japan and mom is from the US moves to Japan. After the long flight, they arrive at their new apartment. Greg is surprised to find lots of things that are different: but that's the way they do it in Japan. This cute story is packed with cultural information specifically for kids like houses, furniture, school, food, and Japanese words.
4. My first book of Japanese words: an ABC rhyming book
Written by Michelle Haney Brown; Illustrated by Aya Padron. English 495.6 BRO
5. All about Japan: stories, songs, crafts, and more Written by Willamarie Moore ; illustrated by Kazumi Wilds. English 952 MOO
**2012 Creative Child Magazine Preferred Choice Award Winner!**
Two friends, a boy from the country and a girl from the city, take us on a cultural adventure of their beloved land through their eyes. They introduce us to their homes, families, favorite recipes, places, school life, festivals and more! Dive into stories, play some games from Japan, learn some Japanese songs
6. Japanese celebrations: cherry blossoms, lanterns and stars!
Written and illustrated by Betty Reynolds. English 394.26952 REY
7. Japanese traditions: rice cakes, cherry blossoms, and matsuri: a year of seasonal Japanese festivities
Written by Setsu Broderick & Willamarie Moore; illustrated by Setsu Broderick. English 394.26952 BRO
8. Hachiko: the true story of a loyal dog
Written by Pamela S. Turner; illustrated by Yan Nascimbene. English 636.7 TUR
Hachiko was a real dog who lived in Tokyo, a dog who faithfully waited for his owner at the Shibuya train station long after his owner could not come to meet him. He became famous for his loyalty and was adored by scores of people who passed through the station everyday. This is Hachiko's story through the eyes of Kentaro, a young boy whose life is changed forever by his friendship with this very special dog.
9. First book of sushi
Written by Amy Wilson Sanger. English SAN -[BA]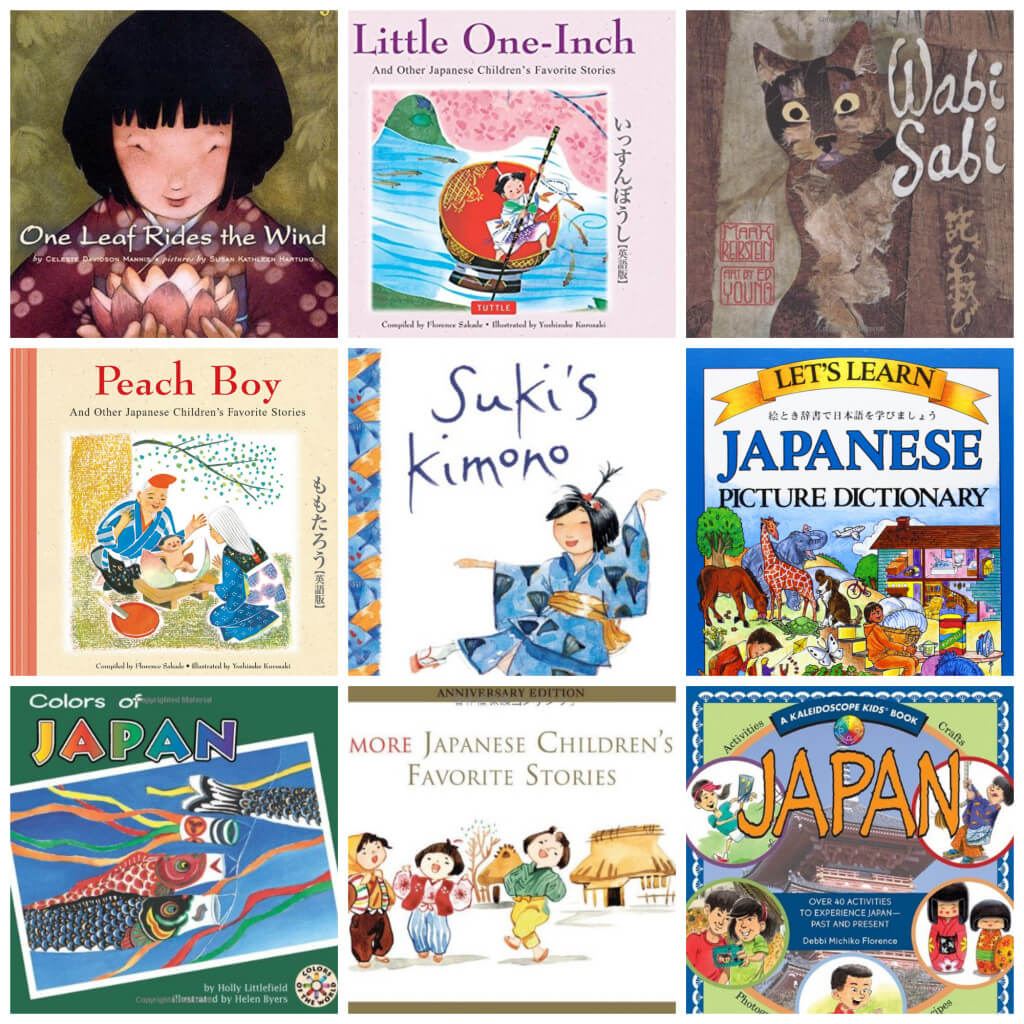 10. Suki's kimono
Written by Chieri Uegaki; illustrated by Stéphane Jorisch. English UEG
11. Japan : over 40 activities to experience Japan— past and present
Written by Debbi Michiko Florence; illustrations by Jim Caputo. English 952 FLO
12. One leaf rides the wind : counting in a Japanese garden
Written by Celeste Davidson Mannis ; pictures by Susan Kathleen Hartung. English 811 MAN
13. Wabi Sabi
Written by Mark Reibstein; art by Ed Young. English REI
**A New York Times Best Illustrated Children's Book for 2008!**
Wabi Sabi, a little cat in Kyoto, Japan, had never thought much about her name until friends visiting from another land asked her owner what it meant. An unsatisfying answer sets Wabi Sabi on a journey to uncover the meaning of her name, and on the way discovers what wabi sabi is: a Japanese philosophy of seeing beauty in simplicity, the ordinary, and the imperfect. Using spare text and haiku, Mark Reibstein weaves an extraordinary story about finding real beauty in unexpected places.
14. Colors of Japan
Written by Holly Littlefield; illustrations by Helen Byers. English 952 LIT
15. Let's learn Japanese picture dictionary
Written by the editors of Passport Books ; illustrated by Marlene Goodman. English 495.6 LET
16. Peach Boy and other Japanese children's favorite stories
Compiled by Florence Sakade; illustrated by Yoshisuke Kurosaki
English 398.2 PEA -[FOL]
17. More Japanese children's favorite stories
Written by Florence Sakude; illustrated by Yoshio Hayashi. English 398.2 SAK -[FOL]
These collections of Japanese stories have been adored by children for more than 60 years! The fables, adventures, and traditional tales are delightfully illustrated and masterfully written to pass on Japanese culture and wisdom. The story; at 3-8 pages each, are short, sweet, and captivating, keeping the kids' attention (and hungry for more!).
18. Little One-Inch and other Japanese children's favorite stories
Compiled by Florence Sakade; illustrated by Yoshisuke Kurosaki. English 398.2 LIT -[FOL]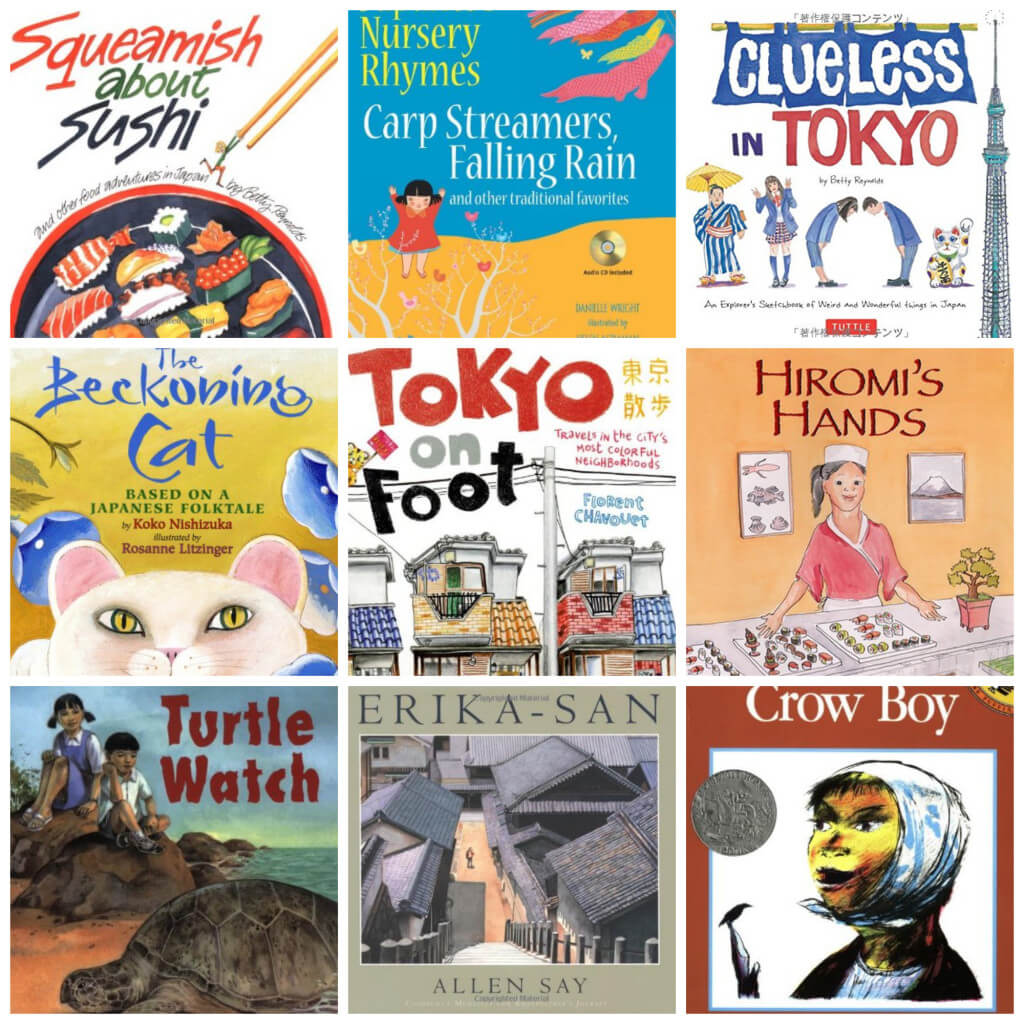 19. Squeamish about sushi and other food adventures in Japan
Written by Betty Reynolds. English 394.10952 REY -[CUS]
20. Tokyo on foot: travels in the city's most colorful neighborhoods
Written and illustrated by Florent Chavouet
English 915.2135045 CHA -[TRA]
21. Clueless in Tokyo: an explorer's sketchbook of weird and wonderful things in Japan
Written by Betty Reynolds. English 952 REY
22. Japanese nursery rhymes: Carp streamers, Falling rain, and other traditional favorites
Written by Danielle Wright; illustrated by Helen Acraman. English 398.8 WRI
A delightful collection of fifteen well-loved rhymes, Japanese Nursery Rhymes is the perfect introduction to Japanese language and culture for young readers. What better way to learn the Japanese language than through rhymes and music. This beautifully illustrated multicultural book features songs and rhymes in both English and Japanese. Accompanied by an audio CD with recordings of kids singing in both languages with songs so fun and charming, it will be nearly impossible for you not to sing along!
23. Turtle watch
Written by Saviour Pirotta; illustrated by Nilesh Mistry. English PIR
Two children learn about how sea turtles lay their eggs and later hatch on a Japanese beach, from a wise, old man who follows their annual journey and prepares the beach for their arrival.
24. Crow Boy
Written by Tarō Yashima. English YAS.
Based on a true story from the author's life, Crow Boy is a young boy from the rural mountains who travels to go to the village school every day. He is made fun of and ostracized until a new teacher discovers and exposes his talent tot he children. The children recognize their cruelty and make amends in the end, as the book wraps up with a moral lesson on compassion and appreciating our uniqueness.
25. Erika-san
Written by Allen Say. English SAY.
A little girl spends her childhood imagining life in a small town in Japan, and one day her dreams come true in a quaint teahouse. The illustrations of Japanese life- from the bullet train in Tokyo to riding bikes through the rice paddies- enthralled us!
26. The beckoning cat: based on a Japanese folktale
Written by Koko Nishizuka; illustrated by Rosanne Litzinger. English 398.2 NIS -[FOL]
If you've ever gone to a Japanese restaurant, you might have seen a status of a white cat with its paw up, "beckoning" you inside. In this traditional Japanese folktale, we learn the story and symbolism behind the good-luck cat, who repays the kindness of a poor boy. Once you read this book you will notice the symbol of the beckoning cat where you never saw it before!
27. Hiromi's hands
Written by Lynne Barasch. English 641.5092 BAR.
A biography of Hiromi Suzuki, a Japanese American girl who, with her father's guidance, defies tradition and trains to become a sushi chef at her family's restaurant in New York City.
Here's to a fruitful June holidays and see you when we return!