Here's a performance the kids and whole family will remember long after it's over: Take your favourite Disney characters, throw in 3 of the all time favourite Disney stories, mix it up with some iconic Disney tunes with a bit of a contemporary spin and you have Disney Live! Mickey's Music Festival which returns this holiday season to Singapore!
It was heartening to see families (Mommies and Daddies included!) decked out in Disney wear, eagerly waiting to enter the MasterCard Theatres at Marina Bay Sands for the Disney Live! Mickey's Music Festival. Not long after the show started, we found ourselves, yes even the adults, toe-tapping and humming to the songs. The kids, who were far less self-conscious were already up on their feet, bobbing their heads and swaying to the infectious beats.
This live on stage 'Mickey's Music Festival' will have you get out of your seat and jam to familiar Disney tunes remixed in contemporary music styles featuring hip hop, reggae, rock, and country. The show centres around 3 main Disney stories: Aladdin, Toy Story, and The Little Mermaid but this couldn't be a show without Mickey, Minnie, Donald, and Goofy. In all, there are more than 25 Disney stars featured.
It started off with a medley of tunes from Mickey, Minnie, Donald Duck and Goofy who got the little ones in the audience really excited. The children were visibly clapping and toe tapping along with them. Genie, Aladdin, Jasmine and the Magic Carpet came next and mesmerized us with the original Aladdin song, 'A Whole New World'. Watching the Genie struck a bitter sweet chord. Being fans of the late Robin Williams, we found ourselves enchanted by the Genie, whose voice-over was so much like that of Williams, the original voice-over artiste.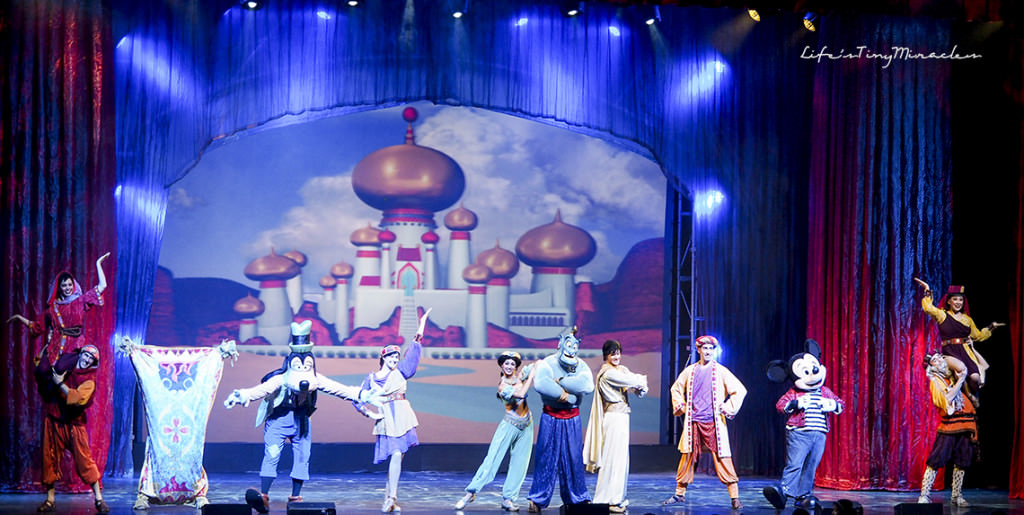 Sebastian and the daughters of Triton from The Little Mermaid danced to a parody of Beyoncé's "All The Single Ladies" called "All the Single Mermaids". We certainly didn't see that coming but loved it nonetheless!
There was then a short intermission and we came back to Mickey, Minnie, Donald Duck and Goofy to get the crowd moving and excited for the second half. The brief intermission was perfectly timed allowing families to stretch their legs a little and the children to be able to get out some of their jitters before the second act.
We returned to the Little Mermaid and now Ariel, Ursula and Prince Eric joined Sebastian. They re-enacted a 15 minute condensed story of The Little Mermaid. Our favorite segment was the ultra-cool 'Under the Sea' UV lights performance of the fish and underwater world. Simply enthralling!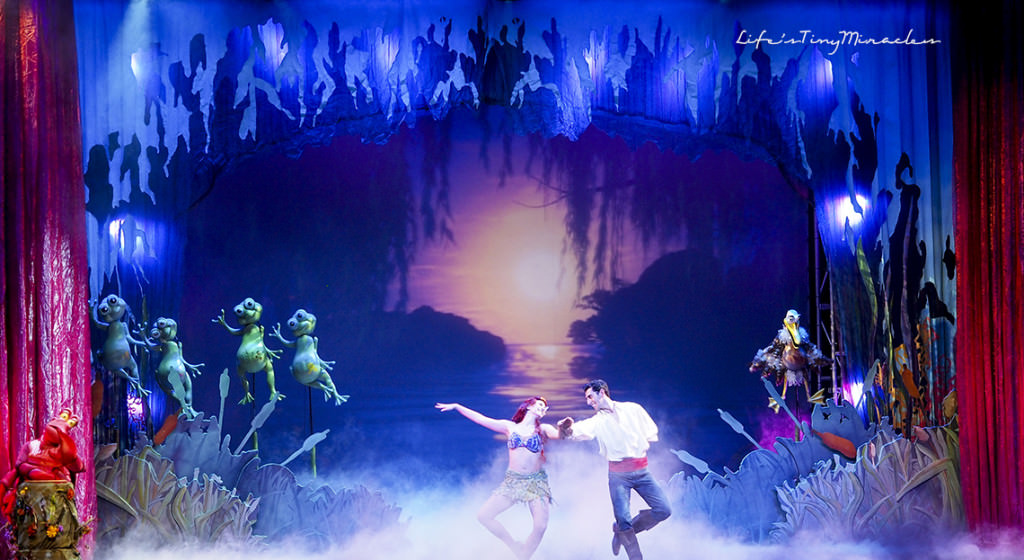 The final act was Woody, Buzz Lightyear, Jessie and Bulls-eye. They did an energetic jump rope routine which wowed the audience. When Buzz arrived, some 'meteors showers' (large inflated illuminated balloons) fell into the crowd and everyone went crazy bouncing the 'meteors' around.
The show ended with a grand finale song with Mickey and the entire cast on stage. Disney Live! Mickey's Music Festival has surpassed our expectations. It kept our 17 month old toddler transfixed and even our 7 year old who was initially apprehensive that the show would be too 'childish' for her ended up dancing throughout the 2nd half! Mickey and his friends did a fantastic job at keeping the energy high.
Disney Live! Mickey's Music Festival was a highly entertaining and engaging show for the whole family. It brought together popular songs and Disney classic songs that we all knew and loved. If you have a Disney fan in the house, you'll love Disney Live! Mickey's Music Festival, catch it while it lasts!
Disney Live! Mickey's Music Festival
Show Dates: Saturday, 21 Nov to Sunday 29 Nov 2015.
Show Times: Wed: 6pm; Thu & Fri: 2.30pm & 6pm; Sat & Sun: 11am, 2.30pm & 6pm
Venue: Grand Theatre, MasterCard Theatres at Marina Bay Sands, Singapore
Tickets priced from SGD35 and up are available from SISTIC Agent (list of agents), through Sistic Hotline (Tel: 6348 5555) SISTIC Mobile App or SISTIC Website.