Mention Tutuk, Tom Yum Goong, Pole Dancing Pornsak (from The Noose) and Bangkok instantly springs to mind. Each year, 500,000 Singaporeans visit Bangkok. With cheap eats, affordable massages, plethora of bargain shopping, and promises of warm hospitality, it's no wonder Bangkok is a top favourite travel destination. We last visited Bangkok 12 years ago as a newly married couple. This time, armed with tips on the 'Must-Dos' and 'Must-Eats' from friends, we rediscovered Bangkok with Dana in tow to see what's it has to offer for families.
The Flight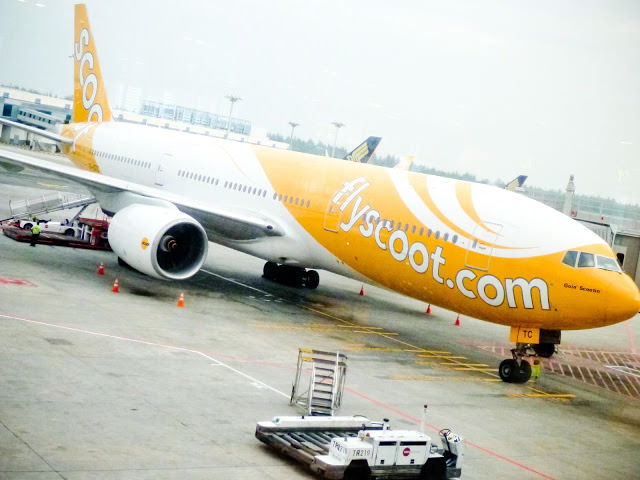 The only budget airline to use a Boeing 777…
Since the plane will land in BKK before the end of most blockbuster movies, we decided to try the newly launched Scoot (which is a subsidiary of SQ and SQ is supposedly synonymous with safety and service). We paid about $600 for our fare (inclusive of airport taxes and check-in luggage fees). Flight was smooth, comfy and frills-free. From its marketing campaigns, we had expected the Scoot crew to be a fun, friendly bunch but those who served us that day was at most luke-warm and non-nonchalant. Do note they do not serve hot meals on board as according to the stewardess, 'it's a very short flight'.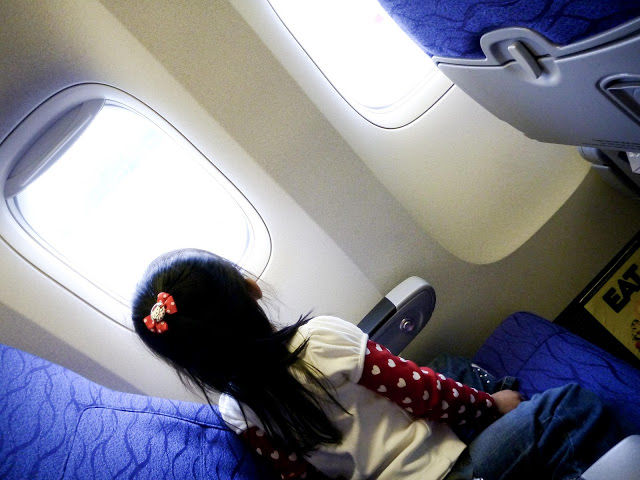 Bye Singapore, we're scooting off for a vacation!
The Fun
One of Daddy's primary criteria for holidays is that the destination must offer something educational and fun for our daughter. That's why we made Siam Ocean World our very first stop in BKK. It did not disappoint. This underground aquarium, the largest in Southeast Asia, exhibits over 30,000 curious looking creatures from various depths and aquatic regions across the globe.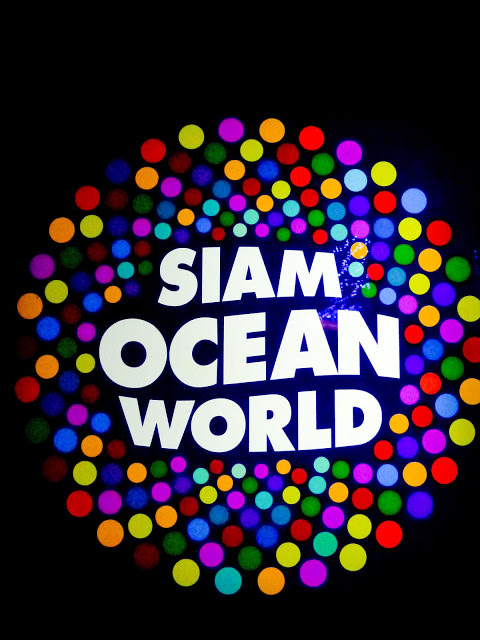 The ocean is like a kaleidoscope, full of wonder and beauty!
Thanks to my research on Trip Advisor, we pre-booked our admission tickets through a 3rd party online site at almost 50% discount and spent a fun-filled afternoon exploring the wonderful world of marine creatures (some dating back to Jurassic period)! Check out these unique marine life we saw…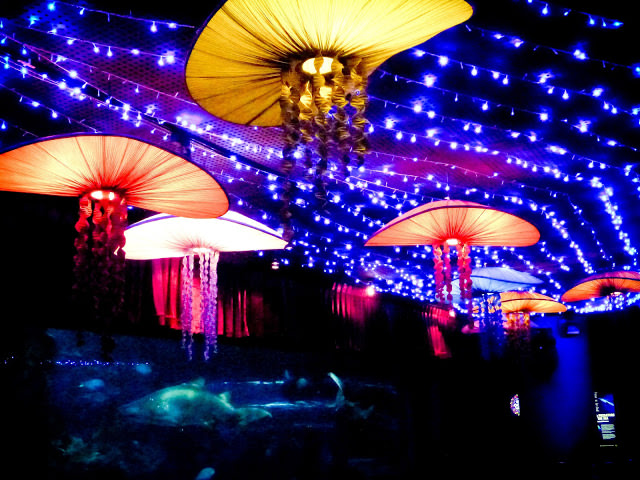 The Fearsome Shark…
Majestic Lion Fish…
Enigmatic Medusa Jellyfish!
Strange-looking Nautilus…
Mekong Electric Catfish!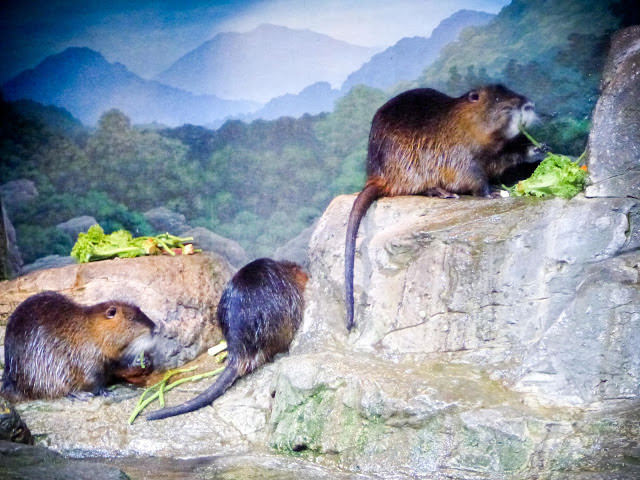 Giant Water Rats…never knew they existed!
Adorable Penguins…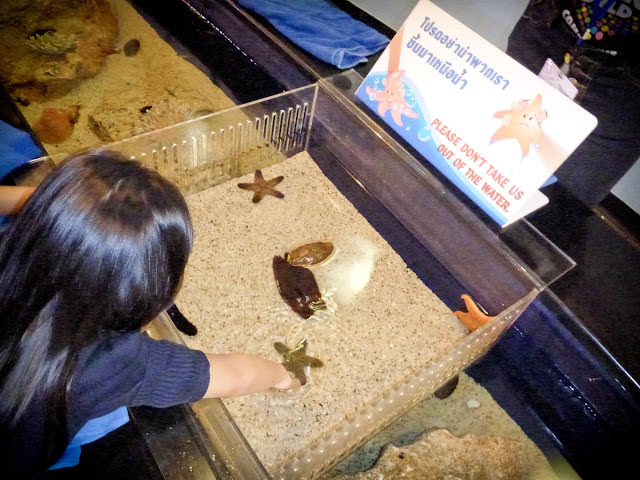 We love its interactive exhibits…
And the colourful array of fishes…
We also paid to sit on the Glass-Bottom Boat as it's touted as one of the highlights of Siam Ocean World. It's a pity we did not get to view many fishes through the small glass window during the ride, neither were we given the option to feed the fishes…As per some things in life, it's overrated.
In the Q for the Glass Bottom Boat…
The staff navigated the boat by pulling it along one of these strings!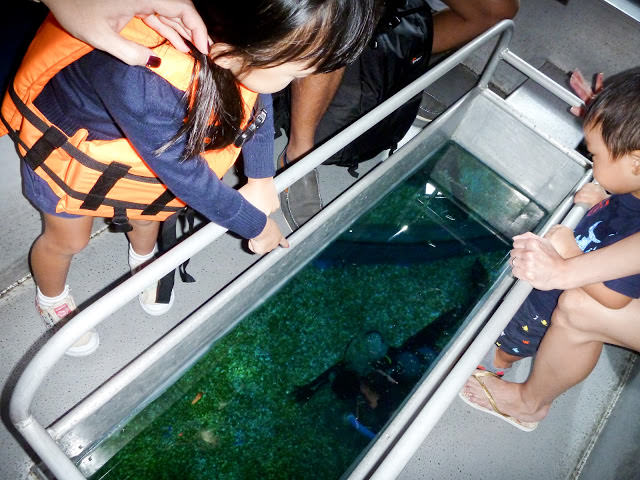 Spotted a shark? No, it's a diver…
There are many shows available throughout the day to keep the kids entertained. We managed to watch Shark Feeding, Penguin Feeding, Rocky Shore Talk, Diver Underwater Talk and Rainforest Zone Feeding. The shows are conducted in English and carry an environmental conservation theme. We thought they were rather well done.
Ray feeding session. Check out those cute eyes and mouth!
Spotted Moray Eel…
Fanciful Sea Anemones…
Big (and very active) Hokkaido Crabs!
One of the many types of Seahorses swimming around…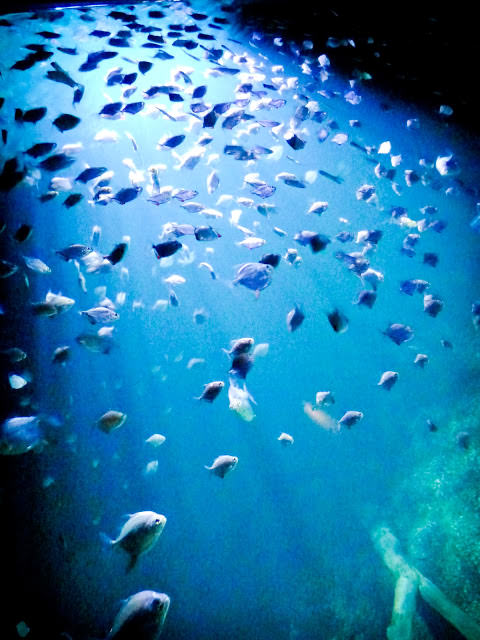 The ocean is teeming with life!
There were many more strange marine creatures which we did not capture on photos due to the low lighting inside Siam Ocean World. We were awed and humbled to learn we actually know so little about the world we live in. Our last stop of the day was to watch the 4D show inside the theatre located near the exit. For little kids like Dana, the highlight of the show was the chance to wear the 4D glasses!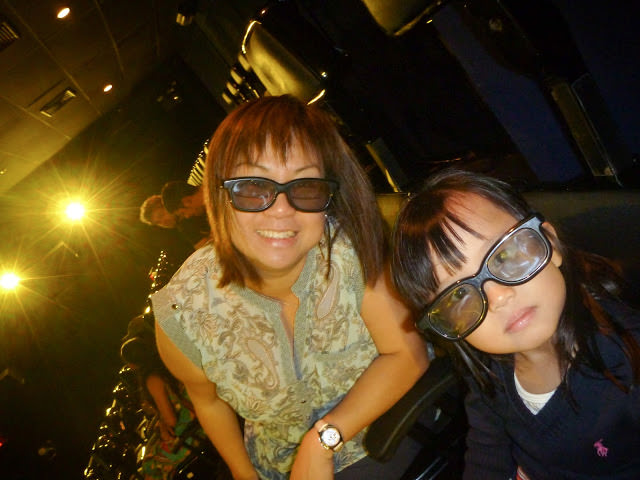 We had a great start to our Bangkok vacation at Siam Ocean World. We were told they even have a 'Sleepover Programme' for kids which starts at 5pm and ends 8am the next morning! In addition to the bedtime shark watching, kids will go on an exciting night tour to the rainforest zone, talk with the diver and curator about their experiences with shark and penguin feeding, as well as learn about marine biodiversity from an expert. Innovative programmes like these and the diverse marine exhibits give our very own Sentosa Underwater World a good run for its money.
If you are planning to visit BKK, you must bring your children to visit Siam Ocean World. Check out its
website
for opening hours and show times. Do remember to pre-book your tickets
online
to enjoy savings and pack some snacks to fill the little tummies!
How to get to Siam Ocean World:
Located on levels B1-B2 of Siam Paragon Department Store in the heart of Bangkok, the aquarium is accessible via the BTS Skytrain (Siam Station). It is a few steps from Siam Discovery Centre, Siam Square and MBK shopping malls (Shopping!!).
Stay tuned as we introduced some good eats in BKK next!